Wood Grading Photo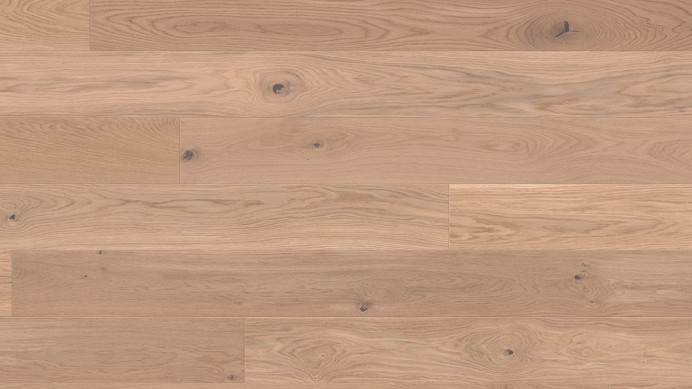 The above photo represents the general appearance of the wood grading of the actual floor product. (color may be varied)
Wood Grading: Nature Grade
Healthy, closed knots: Allowed
Pin knots: Allowed
Filled knots: max. 4 per plank, max. 40 mm diameter
Splay knots: not allowed
Edge knots: up to 15 mm
Sapwood: Allowed.
Cracks: not allowed at the edges as well as on the surface
Long Length

In addition to the modern wider 6-3/8" wide plank feature, the long length of EUROHAUS can also enhance a much higher end look of your home.
We guarantee each plank out of each EUROHAUS box is 7 feet and 1/8-inch long.
CLICKitEASY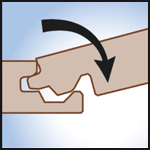 The patented CLICKitEASY connection with the ingenious door-lock principle truly lives up to its name: click the top edges of the planks together with gentle pressure, and the CLICKitEASY spring locks the planks securely and easily like a door lock.
Installing CLICKitEASY brings genuine advantages:
Particularly convenient and simple assembly
Extremely quick and clean installation
Installation without any hammers or tapping block
No material damage
Strong connections at the top and longitudinal edges
Easy removal, should it ever prove necessary
Matt Lacquered Surfaces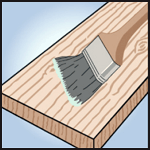 Matt lacquering produces a silky matt finish.
The multi-layered lacquer structure resists strong impacts, because it is both elastic and flexible. The surface remains sealed and protected. Lacquer surfaces that are too hard and rigid lead to clearly visible scratches. These floors are particularly easy to care for.
Impregnated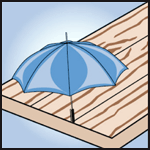 The highly effective impregnation gives the surface better protection against the ingress of moisture which is unintentionally left standing on the floor for a relatively long time. This special oil/wax emulsion at the ends of the planks and staves prevents rapid penetration of the surface by moisture. Every engineered parquet product from ter Hürne enjoys this particular luxury.
Bevel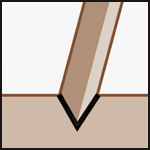 The bevels around the board edges give distinction to every single board in the overall installation pattern and bring out the typical plank characteristic more strongly.
The geometric character of the V-bevels, the cross-section really is shaped like a "V", at the headers as well as on the long sides, emphasizes the modern straight lines of the planks.
eco (Engineered Parquet Floors)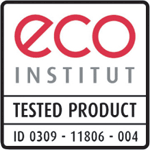 Engineered parquet floors are particularly low in emissions and therefore promote a healthy home environment. The strict test catalogue of the well-known eco-Institut helps you to be sure of this.
Ü-mark (Engineered Parquet Floors)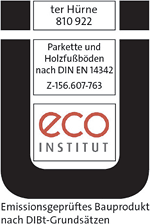 The mark of conformity indicates that products conform to building authority standards and the generally accepted rules of structural engineering. Independent testing institutes are responsible for ensuring that the provisions are met.
Warranty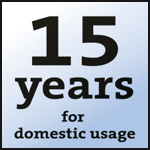 Warranty for engineered parquet floors.
EUROHAUS quality guarantees a long life for the floors. 15 years for floors that are 12 mm thick with 2.5mm wood veneer.